Dating is not what it used to be– This is a fact. Instead of dating the girl down the street as was once custom, today's daters may cast their ballots into a vast selection pool and hope to be chosen. The issue with this system, by which women want one man over the other, is that judgments are faster and more superficial. There is no time to read her reaction and add in charm as appropriate because, in the amount of time this interaction would once have taken, the modern dater has already moved on to look at someone else's profile. If you are finding limited success in today's online dating pool, continue reading for ways to boost your chances of finding a match.
Get rid of those pictures with other women.
You may have heard that a man surrounded by women seems more attractive to the average woman than the same man standing by himself. You may have included this picture to demonstrate that some women do in fact like you. In either case, the point you are making by adding this picture is valid. The problem comes when you put up a picture that shows you standing next to a beautiful woman, especially when it seems like the two of you are or were involved. Swiping through your photos, women may infer that you are not over your ex, and no one wants to deal with that– save yourself the trouble. Even if you look fantastic in that picture, do not include it.
Also steer clear of harem pictures, a genre of photo in which one man stands at the center of a row of many beautiful women. Though it may give you confidence, women swiping past your profile will feel that you are overconfident, or worse, full of yourself. Save that photo for your own viewing but remove it from your dating profile.
Write something about yourself or your life.
For most women, there is an unspoken awareness that swiping on apps and browsing for dates on the Internet is inherently dangerous. This means that when they are surfing through profiles, they want some degree of assurance that you are personable rather than scary. If you post only your picture, no matter how hot you look, most women will be turned off by this lack of verbal forthcomings and look elsewhere.
Show your face in your pictures.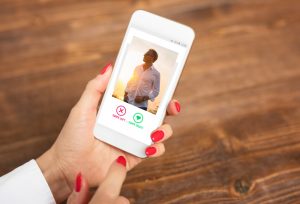 You might not feel comfortable presenting your face on a dating site or app, which is a common struggle. The way past this, however, is not to post two pictures of the back of your head and your dog and call it a day. This screams insecurity. Furthermore, on a deeper level, if you are not comfortable showing your face, it may not be the best time to date; it might be time instead to consider ways to develop a positive self-image and body-image. After all, women are unlikely to respond positively if they cannot feel the emotional connection that comes with seeing another person's face.
Conversely, if all your photos are abdominal shots, your intentions are clear. Just make sure that you have provided enough personal information to allow her to feel that a woman would feel safe meeting with you.
No more bathroom selfies.
The last thing you want her to be thinking when she looks at your profile is, "Is that a mop?" Or even worse, "Why is he taking a picture of his abs in the restroom at work?" The mirror selfie went out of fashion with Myspace, and now it is downright antediluvian. Find some soft light, make sure you have taken good care of your hair, skin, and clothes, and take pictures in a variety of frames, backgrounds, and days until you've secured three photos you aren't embarrassed to post. Put some effort into your pictures, and you will see more returns from the app or service you are using.
None of this "I'm not good at this" business.
You are not the only man to write this. In fact, if a woman swipes often, she sees it every single day. Even if you feel that it is true, and you are in fact unskilled at the art of profile writing, do not lead with insecurity. Though everyone is insecure in some way or another, the most successful online daters learn to lead with confidence, or otherwise pretend they feel secure until that confidence is genuinely there. And worse than that, if you created your profile more than half an hour ago, this description makes you look lazy. Women do not want to sleep with, date, or spend time with men who cannot put in the effort to type out something that conveys personality if they are smart.
Demonstrate that you are fun to spend time with.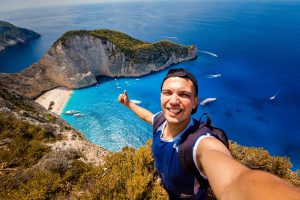 Some profiles succeed in getting women to laugh, but not to swipe. One of these types of profiles is the "I'm so tired" profile, the kind that features several photos of a fatigued-looking man in varying degrees of distress or existentialism. Bios may include statements like "This is so hard," "I'm so tired," or "What is the point." Women will often be amused, but not pursue these profiles further because they imagine these men have no energy, will, or effort to give them.
Avoid blurbs like "No games" or "I'm looking for something serious."
These blurbs might work against you, even if you mean them wholeheartedly, because they may come across as aggressive, or make you seem too serious. Instead, consider a less direct statement like "Looking for a beautiful relationship with a beautiful woman." In other words, frame your ideas in positive wording.
Show how you are quirky.
Everyone and his mother writes "loves to travel." Look at other men's profiles, see what all of them are writing, and remove yourself from the pile of identical copies by writing something else. Focus instead on what makes you unique, including hobbies, quirky jokes, and things that make you happy. This returns to you some of the humanity that can seem to be lost during the swiping process.